Description
Wellkid Baby Vitamins Minerals Great tasting liquid vitamins & Minerals swiss Alpine Malt & flaxseed oil
What is Wellkid?
Wellkid Baby & Infant liquid is ideal for babies and infants from 3 months to 5 years to provide a carefully balanced, comprehensive range of 14 essential vitamins and minerals. Wellkid Baby & Infant liquid formula includes vitamins A, C and D, as recommended for babies over 6 months
Wellkid Baby Vitamins Minerals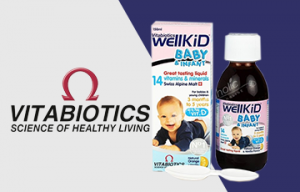 What does Wellkid work for?
Wellkid baby and infant syrup is great for your child's health and nutritional well being and can help to safeguard their long term health. This special formula includes essential vitamins such as A, C, D B and E as well as the minerals, iron and zinc to help them maintain energy release and a healthy immune system
Payment & Security
Your payment information is processed securely. We do not store credit card details nor have access to your credit card information.